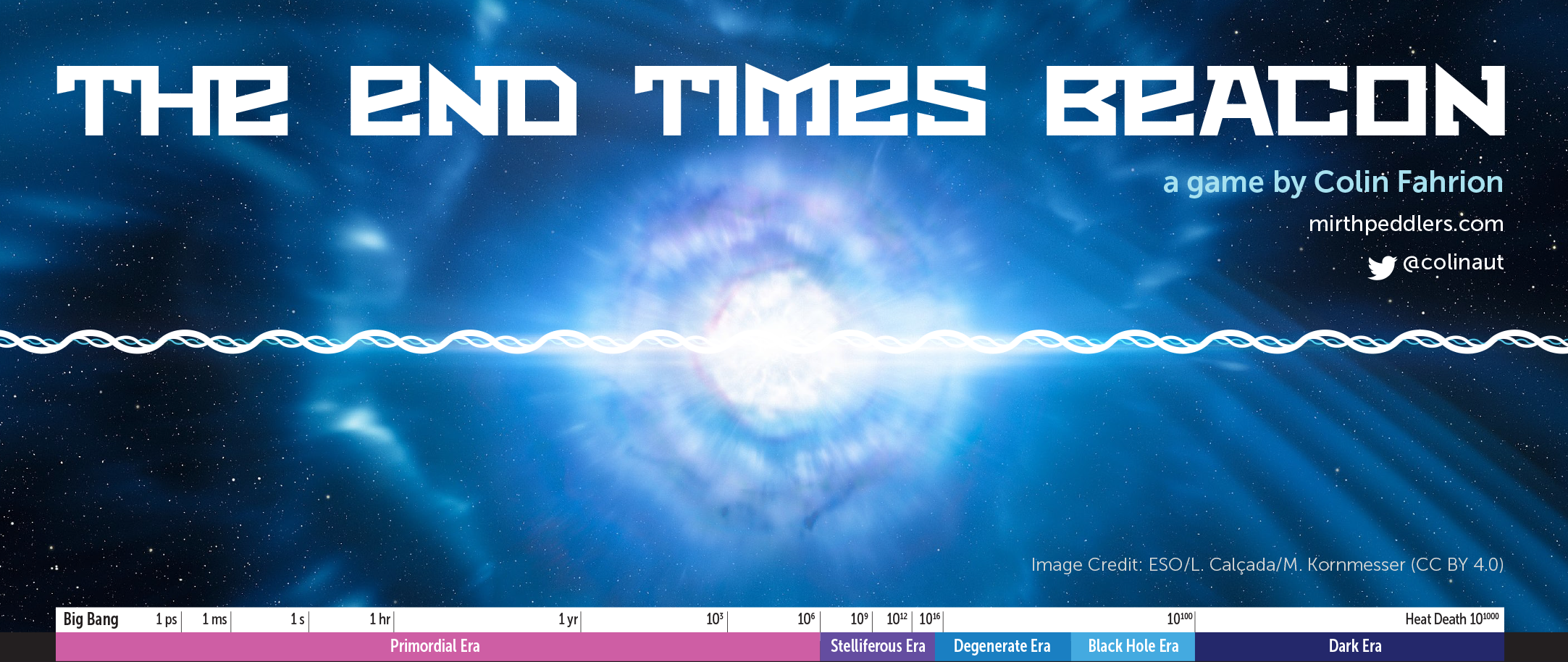 The End Times Beacon
The End Games Beacon is short gm-less diceless PbtA rpg for 3-7 players about post-humans being called by a mysterious Beacon to decide the fate of their slowly dying universe.

Written and designed by Colin Fahrion (twitter: @colinaut)
Proofreader: M Van Vleet (itch.io: signalstation; twitter: @signalstation)

It is the end of the Stelliferous Era, 1014 years after the Big Bang. Space itself has lost its radiance as the last stars burn out. The slow trickle of proton decay presages that one day even matter itself will fade away.
Remnants of post-humanity lay scattered across the remains of the Milky Way, some still clinging on and others nothing but dust. The hard limit of the speed of light remains unbroken but the descendants of Earth were driven to venture forth, no matter the distance.
The life discovered on other worlds was unique and beautiful but never more cognitively advanced than the apes humans once evolved from. However, in many ways post-humanity themselves became the aliens they so wished to meet. The immense separation of space and time fractally transformed post-humanity into a dizzying multitude.
Then one day, a signal rippled across the universe… A massive gravity wave pulse resonated across spacetime as if several black holes were slammed together in a precise sequence. Encoded into this pulse was a message: "Descendants of planet Earth, it is time for all of you to come together and decide what is to become of this dying universe. Meet me here, when the countdown ends." After the message, a faint signal slowly counted down to a point in time 200,000 years hence.
Only a handful heard the message and even fewer heeded the call, for the origin of the pulse was thousands of light years distant from even the nearest post-human civilization. To make such a journey it would take ages even with pushing their engines to a hair's breath of the speed of light.
You are one of those few who heeded the call to the Beacon.
What you need to play
3-7 humans.
1 hour, give or take.
Printouts of the rules, The Beacon playbook, and the six post-human playbooks.
A desire to roleplay as strange far future post-humans and AIs in a dying universe, who are burdened with a big emotionally heavy decision.
What you get
Rules and advice for roleplaying post-human weirdness

The Beacon playbook (played by a player or cooperatively by the group)
6 Post-Human playbooks (transhumans, AIs, and stranger things), each with varying unique backgrounds
play $1 for just the text file
or pay $3-5 sliding scale for a deluxe nicely designed PDF!
Purchase
In order to download this game you must purchase it at or above the minimum price of $1 USD. You will get access to the following files:
The End Times Beacon - bare bones text file
43 kB
The End Times Beacon - deluxe nicely designed pdf
873 kB
if you pay $3 USD or more